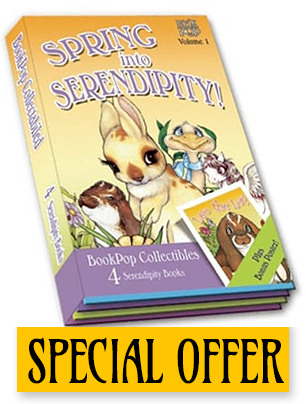 Serendipity 4 book set
(Sniffles, Flutterby, Leo the Lop
& Buttermilk)
plus one 18" x 21" poster.
---
KidTalkTM Radio Podcasting for children and adults alike!
Listen to your favorite books
click here
For all the kids, and their parents, while we are living through social distancing, free narrated books
for you to enjoy.
---
.
E-Mails to Stephen: stephen@stephencosgrove.com
~ ~ NEW ~ ~
Hardcover Serendipity
Collectors Edition
Over the years I have received a myriad of requests for hardcover books and after careful consideration I will be offering a uniquely designed 7" x 10" hardcover book with dust jacket.

The first two titles, "Leo the Lop" and "Creole" are now available.

As you can imagine, the cost is a bit staggering, but, still and all, we were able to maintain a reasonable price of $12.95.}